November 02, 2022
Iten 2022
Thanks for coming to see what we are up to in Iten, Kenya. Rather than produce one blog post at the end of our week, here I will be updating this page daily. I hope some of what I write makes sense and helps you in some way.
Much love
M
Day 6:
Our final day of training in Iten before our departure tomorrow and it was not due to start until 9:30am. I didn't change my routine of waking up just before 6 for sunrise and an extended stretch before we casually made our way to St Patricks school for 9:30am. All the runners were relaxed, still not knowing the session, well some of them knew it would be hard but that was about it. Coach Ian gathered us all on the steps to the field we had done exercises on the night before. It was surreal, almost like being back in a rugby team at school as he wished us all good morning and then started to quiz the local runners on the world records for various distances. Super smart. He wants the numbers to be front and centre of their minds all the time, he wants them to see them, to obsess over them in the bid that they will one day break them. Insane. As the world records quiz is ongoing brother Colm joins us, listens, greets us and then proceeds to tell us that we have to look at all areas of our life as training. He goes on to say that when we are eating we must see it as training, relaxing is part of training, sleeping is part of training, recovery is part of training. "If we want to be the best in the world at athletics then everything we do is part of our training." The guys eyes are locked on him. His track record is undebatable, they are sat there because they have been selected, some of them already have world records and may get more, the others have a legit chance. We are sat amongst one of the most unique group of athletes on the planet. It's absolutely wild. Thank you all form welcoming us.
As if just being in that morning briefing was not enough we head out to the "hill" which is a 3km jog we are told. The mood is light, the pace is slow, they know there is work coming, Ian wants them to be relaxed, they want to conserve as much energy as possible for the work they have coming, they are smiling, we are smiling to. It's unreal. On arrival in the forest Ian seems more relaxed than every, he tells us to stretch, meanwhile he places 2 sets of leaves above 5 meters apart at the bottom of the hill he wants us to run up. Once the stretching is done he splits us to two lines 6 in one 7 in the other.
"We start polepole and we build, 45 minutes. This is the start, you will see a tree up there, that is the end. Ready? Let's go." And like that the session has started. I'm ok with their polepole (slowly slowly) pace on the first rep. Second rep I feel it a bit more, 3rd I just make it, 4th I am way off the back even though its not even 200m. "Well that was good fun" I think to myself and as I look down at my watch……40 minutes to go. Perfect. What a way to finish our running in Kenya. They are still in lines, I am solo. They are probably working at 60%, I am working at 100%, haaaa. Gold.
The 45 minutes ends and they continue walking further up the hill. I do not think much of it and follow. 2 minutes later we are running again, another 2 minutes we are running up another hill. The session is done and we are "jogging" back to the start at St Patricks school. I am still gasping for oxygen and hoping that the route back is no longer than the way there. It is the same but the last 800m is a steady incline. Beautiful, one last VO2 max effort here.
They thank us, we thank them. For us I think it is things dreams are made of to be able to come here and train with the best athletes in the world and learn from the best coaches in the world. It is truly an honour and so totally unique. Whilst writing this daily has helped me reflect daily I am sure it will take some time for all the parts of the trip to fully sink in and that's cool. I am in no rush. As they keep on telling us and we keep on telling ourselves "relax", easier said than done at tempo but the concept remains.
A huge thanks for the second year to Rob and his connections to making it all happen and to both him and Tom for tolerating me. This years videos and photos all done by Josh who gave up a week of his life to come and capture some of these insane and unique moments for us.
See you all in 2023 for more threshold I guess.
Day 5:
I am not sure if it feels like we have been here 5 days or 50 days, Sunday when we arrived seems a distant memory but here we are 5:44am on Friday waking up to another beautiful sunrise and a good cup of coffee.
Our plan today is to travel the 17km to the infamous Moiben road by the local minibus called Matatu which we will share with up to 12 others despite there only being seats for 8 and various types of cargo. We have chosen Moiben road this morning as it is a straight and quite flat stretch where the worlds best come to do their long fast runs. Yesterday a group did 40km at 3:17 per km. Lets see how it goes shall we? Jokes we will be no where near that.
20 minutes quite snug in the Matatu with just 5 others but a serious amount of market produce which one of the passengers tells me he is heading into town to sell, he seems happy about it and I am happy for him.
It is just the 3 of us this morning and Josh on his bike / camera. Simple plan, 3km warm up then 2km on 1 km easy x 5. Turn round at 9km and finish where we started. 3km we run past a field with half a dozen giraffes in, unreal. Aside from that the road is as I said above long, straight and pretty flat. We do the work and head back to Iten in a slightly busier Matatu, pay our USD1 each for the ride and walk gingerly back to the hotel as the legs / whole body seemed to stiffen up in our compressed seating positions on the way back. All part of it right.
Outside of running as you will have seen / read there is very little to do here. We eat, we wash our running kit, we play a bit of social media, do some work, eat and recover. It is very simple and very beautiful and calm. I have asked myself a few times if I could get used to this on a more permanent basis. The answer is normally yes but with less running. The fact that we all came here with only 7kg in our bags and have used 2 sets of running kit that we hand wash in the shower after each use highlights the simplicity of life here.
Our afternoon session on it's own makes the trip worth it. Coach Ian invites us to do "exercises" with his team. Pretty much everything about Ian is relaxed and done with a smile on his face, he has an unreal demeanour and the more time I spend with him the more I can understand how he breeds some of the best athletes in the world. As he is introducing us to the team the "godfather of Kenyan running" brother Colm makes his way onto the training field. He asks Ian if he has introduced the runners to us, before Ian can reply Colm goes around the 10 runners there introducing them one by one and in the process blowing our minds as we are in the presence of Olympians and world record holders, feats such as a 26:24 10km, and a 3:30 1,500m to name a few. You can immediately tell why brother Colm has the title of the "godfather of Kenyan running" based on two things. 1. The way in which he addresses and respects the runners and 2. How when he talks they listen. The fact that he took about 8 minutes at the start of the session to introduce his runners to us and make everyone feel welcome was humbling.
Running is rhythm as we know (or should by now) so it is not surprising that the first 20 minutes of our exercises were all working on rhythm as a team. Most of those 20 minutes the 3 Mzungu visitors were out of rhythm which provided much entertainment for the local runners and us alike. From there we went into some core work and finished up with some stretching on various levels. More mandatory messing around and photos at the end before we were told to be back for 9:30am. Ian had told us earlier that we would be doing "hills in the forest" but this was still unknown to the team so we kept quite, gave them high fives and headed back to our hotel.
Day 4:
I am always excited to wake up when I know I get to spend some time watching the sun rise and having a nice cup of coffee. I always think you earn these things and so first up is my morning stretch routine which does not take much more than 5 minutes and gives me a chance to check in on my body. It feels good still but that is about to change. Skip this section if you are a bit squeamish. Toilet paper is not my friend let's put it that way and during my first visit this morning I sense the 4 days of using it opposed to the butt hose (not available here) seems to have taken it's toll. Just a few minutes before we are due to leave I feel something in my guts, head back to the bog and as I stand up to flush i realize that the blood perhaps is not just superficial. Maybe why I don't feel 100%.
Anyway we crack on. 45 minute drive to the outskirts of Eldoret and the Kipchoge Stadium. On arrival there is a group of about 25 Kenyan runners working hard. It is beautiful to watch. I head over and wish their coach a good morning and we have a nice chat. He has 3 different groups doing 3 different things. The ones that fly past us as we chat are running 1kms with 60 seconds rest at 2:45 pace he tells me, to which I respond "hard work for them" "Yes" he says "speed work must be hard." It is these very simple nuggets that stay with me and perhaps have the most profound impact on me.
A couple of laps of the track and my legs are not with me, coupled with some discomfort in my stomach. This is not the perfect set up for speed work. Specially with the "speed work must be hard" phrase reverberating round my head. For once I am sensible (I think) and just keep running a few more easy laps for about 20 minutes or so. The legs start to feel a bit better so I open them and the lungs up for some 400's. 4 is enough. Ha ha. Meanwhile Rob is flying round some 400's in 68 seconds a lap and Tom is murdering himself with some 800's.
The track was far busier than during our last visit which is a great sign. There is not much commotion, everyone is there for a reason, no drama, no hero's, they are there to work and the sound of one foot fall after the other on the hard track coupled with the morning sun and the various shadows it brings creates something truly beautiful and very photographable. Josh has his drone out and a big smile on his face.
A quicker ride home as rush hour seems to have dissipated which is fortunate as on a few occasions I come very close to discharging from either end. Nothing that a bite of breakfast, a nice warm shower and the decision that the rest of the day will be super relaxed does not fix though. Legs feel better than they did earlier in the day and again no real muscle soreness. So although the track session did not work out as planned, to be honest seeing some of the best athletes in the world do their track session was worth the drive.
Everyone seems to be on the admin bus. Our jobs do not stop for us. Rob, Tom and I have athletes around the world that deserve our attention in one way or another and we love to give it to them in the quest to keep making them better. Add to that the fact that it is the start of the month and I have the company payroll to sort out and we somehow lose about 4 hours banging the keys. Probably would be 2 if the connection was half decent but it is not so we travel at a more relaxed speed. Equation of the day that we still have not solved is why is everything we want to / need to do on our devices so slow and in some cases does not work at all, where as yes social media is slow (sometimes 5 minutes to upload a 15 second story to the gram) but it works in the end. The world of tech and clouds continues to play with us.
We can not sit all day and make a team decision to go for a walk to stretch out the legs. Our walk takes us past "Hilten Hotel", (spelt right) various beauty parlours, the occasional butchers shop, none of which have any sort of refrigeration but an abundance of flies and ants and rounds out at what appears to be a hyper competitive volleyball match in the centre of town with close to 300 people spectating and enjoying the performance in front of them.
Dinner is always a bit of a lottery as it's a buffet but most nights one of the two meat dishes is half decent, some nights what is supposed to come out does not as the oven is broken but the service staff are always pleasant and we always seem to leave with full bellies. We are not here for a culinary experience but need petrol in the tank to be able to run the next day and always get it. It's simple and simple is good
Day 3:
I was awake early this morning, for some reason I had shit sleep, it is what it is and what I can control is what I do now not what happened in the night. My morning routine as the sun rose through the clouds was nice and I feel very good. Something that is different from last year to this is how my muscles feel. Last year they were super sore pretty much from day 1 where this year and this morning they feel good which is nice.
For the first time the runners and coach that we are supposed to meet at 7am are late as they start to arrive at 7:03. A familiar face "Shadow" who we ran with last year is part of todays group and he seems happy to see us which is nice. He is a jovial character and based on the fact that he has no clue what the session is he starts to wind us up with various options and paces. One thing we know is that its 18km which is good.
We set off at a pace I can hold which is nice, there are a few murmurs in the 12 strong pack but not too much talking at all. The main noise is the runners feet hitting the red carpet which is somehow soothing and motivating at the same time. I get to enjoy it for the first 3km and then the group start to move away from me. Shadow gives one of the other runners the nod to take care of me, I tell him to go on and I will be fine but he insists to stay with me. Their selflessness to take care of us is humbling. He just holds his hand out to his side which of course I know is the signal to sit on his shoulder and we run. At 9km I am smashed but I tell myself that I need to get to 12km as this guy has sacrificed his run to help me so I at least need to get to 12km, do not ask me why 12 but that was the target and when I hit it I pulled up and sent my safety driver on, he wanted to stay with me but in all honesty I wanted to be alone and not hold him up. I had a 3 minute walk then trotted slowly back to the start where of course I found Rob and Tom smiling and fresh. Another solid morning run in Iten, feed me and let me lay down please.
How do you come to Iten and start running with the Kenyans? A question that may be on your mind. Well it is and it is not simple. Although they are very friendly people the various running groups are quite closed as you would expect when you are breeding world champions. However! (If you read last years post here you will get the full backstory) we have a nice contact who just happens to be one of the greatest running coaches in the world who clearly knows everyone so sets us up and today we got another opportunity to have lunch with him.
Last year he blew us away with things he said, this year he reaffirmed those things, some may call them the secrets, but for him it is so straight forward. He invited us to do hill reps in the forest with them on Saturday which given our visit to the forest on day 1 filled us with all the feels. "We find a 200m hill, not too steep but not easy, and we run it for 40 minutes, getting faster." Simplicity at it's finest.
Afternoon runs are always more relaxed and referred to by the local runners as "light jogging". Also seems that their approach to time and meet points is similarly relaxed. After looking for the group we had arranged to meet for 15 minutes we set out on our own for some "light jogging." 4pm is a pretty awesome time of day here in Iten as the sun starts to drop and people are on their way home from work or school, there is (as normal but perhaps more) a super friendly and positive buzz about the place. We quickly navigate off the main roads and onto the red carpet passing a number of smiling faces and young kids out playing and enjoying life in the late afternoon. A similar experience as Rob and I had with the school kids yesterday presented itself today as half a dozen kids aged from 3 to 6 stopped playing as we ran towards them and joined us for about 500m up a hill, some with shoes, some without, all with big smiles. What a place.
Legs feel good which is a massive win. Lungs still on fire when they are asked to work a bit harder but this is 2,300 above sea level so that is expected.
Dinner and laughs as standard and then 8:30 crawl into bed for 15 minutes reading and lights out. Excited for tomorrow as we head to the track.
Day 2:
Day 2 was our day 1 last year and it was a baptism of fire with a 6km easy jog down to the start of a 200 people strong fartlek session of 1 min hard 1 min easy. A solid welcome to Kenya. We all knew today would be another absolute blood bath so to speak. As we only had to leave our room at 8:10, there is a nice calm before the storm, an amazing sunrise, a good cup of coffee, some stretches, plenty of laughs, some nice reading and then it was time to kit up for the same 6km warm up to the start.
The start of the Tuesday and Thursday fartlek session is through town and down the hill, as we make our way so do big groups of other runners. These are the sessions that pretty much every runner no matter who they run under or what their goals are make it to. From some young runners looking to secure scholarships to a few guys with marathon times around the 2:05 mark. It's unique, there is no fanfare but many nods of respect. As is possibly always the case in life a smile and a nice hello can go a long way and we spend the 15 minutes before the start laughing and joking with half a dozen local runners.
8:57 and we are summoned, given the instructions "1:1 20" and told to start. It's so unique as the close to 200 runners make their way down the red carpet knowing that the next 40 minutes of their life is going to be a wave of mental and physical emotions.
I am sat at the back and I lock my sights on a few of the ladies during the first and second intervals as the main cavalry charge off into the dust ahead. Similar to yesterday one of the girls looks at me, says nothing but starts using hand signals which I learnt fast last year are key to your existence. 4 of 20 in and I am on the edge already, I know all I have to do is stay close to the girls and follow the hand signals. At 14 we turn into a headwind for our next effort after which one of the girls turns and says to me "very hard today with the wind and you are very long, not easy for you." I smile as we jog the recovery and lock my focus on the next interval knowing we have only 6 to go. At 20 we walk, smile at each other and I say thank you. I am absolutely destroyed and then I realize we have 3km to get back to the main road where Tom, Rob and Josh will be, we jog…..slowly.
Culture is important and today we decide to have breakfast at one of the local / runners cafe's which we visited a couple of times last year. It's so unique in every single way. I have not much to add to the conversation as we wait what seems like an eternity for some breakfast which gets quickly inhaled before we make our way back to our room to resume our horizontalness and wait for lunch.
The conversations and laughs continue pretty much any minute that we are not sleeping. Talking of sleeping Tom has gone into the lead with a comfortable margin on the number of sleep hours thus far, really stretching things out today as he had both morning and afternoon naps. Rob and I only opting for the afternoon option.
Maybe it was the sleep that gave us the energy to head out for an easy afternoon run and I am so glad we did. About 3km into our run we were approaching a school that was finishing for the day and the kids were leaving and making their way home as we ran past it. The smiles and screams we were greeted with were unreal as all the kids books in hands or on their backs started to run with us, asking us questions and generally being some of the friendliest people on the planet. There must be around 30 kids running with us and then one by one they start peeling off as we pass their homes, as they exit they let our a big scream good bye and more laughs, it's hard to put it into words how it made me feel. 2km from the school gate the last kid leaves us. Wild.
As was the case yesterday the objective is to finish with the legs in better shape than when we started and this is achieved.
Tomorrows plan is confirmed. "7am meet by Lillie's for a run", no clue how far or what format, it's arbitrary for us but its a key part of their coaching, the runners are told where to be and when and only told the session when they get there. I could write a whole piece on this alone but now is not the time, have a think about this as a concept.
Day 2 = awesome.
(This is the actual start of the post but for ease of reading I will put the current day at the top)

It's one of three things that lets you know you are in Africa. The relaxed smile offered up from the service staff that makes you feel so comfortable to wait a disproportionate time to receive your order. The seeming pandemonium of highly populated areas with every form of transport converging on each other to keep the towns moving and although often looking like they are all going to end up in a pile they somehow seem to navigate in such a way that delivers a strange efficiency. And finally and the reason for our return to Iten just 12 months after our first visit, the "red carpet" or what is the traditional clay road systems which in the more remote parts of Africa form the infrastructure that so easily becomes a state of mayhem during a rain shower or when a pack of the worlds fastest runners are training on them.
Tom, Rob and I are back to Iten Kenya for another week of running, another week of learning, another week of conversations, another week of laughs and another week of being absolutely knackered. This time joined by another friend and his bike Josh. Sitting at over 2,000m elevation in the heart of the Rift Valley this small Kenyan town has produced some of the fastest runners on the planet and is seeing an increasing number of other runners (Mzungu – white man) descend on the town to learn from the Kenyan runners.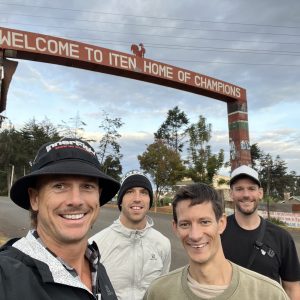 Day 1:
6:10am at the petrol station in the middle of town is the order. The middle of town is probably not an accurate description. Iten has one tarmac road running through it and the town spans just under 2km, somewhere along that 2km is a petrol station and the town is bookended by two big signs across the road "Welcome to Iten Home of Champions" which also act as meeting points for runners. Of course not exactly at the petrol station or the road signs but somewhere in the vicinity you normally find your runners. Whilst the location is up to 100m flexible your meeting times are not, these guys may be slow to bring you your food but when it comes to running they understand.
There is always a discussion on what the run for the day is. Rob is our run logistics man and loves to chat to random Kenyans. The group of around 25 runners is gathered and the man that Rob has just been talking to asks everyone if they are feeling good today and hopes they slept well. He then goes on to introduce Rob, Tom and I and asks the runners if they will allow us to run with them today, they all nod, a few mutter something and some smile. The leader of the run takes over and asks us if our watches are ready, to which we nod back and with that nod he simply says "we start."
Start we did…..around 4 mins per KM after about 50 meters and up a hill. "Welcome back to paradise" I think to myself. This mornings run is 18km we have been told and we will go into the forest, there was no mention of speed, there did not need to be I guess.
About 2km I can not keep the pace and one of the local runners notices, he signals for me to close a gap which I try to do and then he speaks softly to me and says "do not worry, I will take care of you."
6km rolling tarmac fast to drain all of my energy and oxygen which is harder to replace at this altitude and we take a hard right onto the red carpet, again undulating, its beautiful, even though I can not breathe it's beautiful. Another hard right and we are on single track in the forest, the clouds are down and it's truly unreal, as is the climb that I suddenly find myself on. My Kenyan friend is still with me, I have not had and air to talk and he has said nothing but has run just in front of me all the way so far making sure I am ok, sticking to his word. As we reach the steepest section of the single track and I try to keep running although walking may have been faster due to the gradient he turns back towards me encouraging me with "we are nearly at the top."
The single track spits us out onto around 7km of rolling red carpet back to the start. I remember the feeling in my legs from last year, they just feel like there is no oxygen, the inclines become very hard but you guts them out and within 5m of reaching a flat section they somehow feel ok and you go again, the cycle repeats.
We have a quick chat at the end and make a video during which my friend confirms that todays run easy hard due to the hills and the forest so it was a good run. 18km 400m elevation, 1 hour 30. Back to Kerio View for breakfast and to get horizontal.
The time not running is spent recovering from running, be it sleeping, eating or just relaxing and getting some work done. Last year I also found it a good time for reflecting, thinking and some writing.
4:30pm and we head out for our second run of the day, all three of us feeling the impact of this mornings run in different ways. The objective of the afternoon run for me is to feel better at the end than I did at the start therefore I have no issues when Tom and Rob run away from me. I mean if I have an issue with that at any stage I am living with a distorted sense of reality. These guys are far better runners than I am and I have a huge amount of respect for both of them. Some parts of our 8.5km we run together, others apart, it's all fun. Josh even puts his drone up and gets us a sweet bit of drone footage. We end the run and my objective is achieved, I feel better than when I set out and am smiling. It has been a good day of running.
Meal times are good for conversations and the standard relaxed service speed in Africa always means a meal is a minimum of an hour long but more normally around the 90 minute mark. For many the topics we discuss may not be interesting, perhaps a bit nerdy but three great topics stood out this evening. One was around Rob and his coach which led thoughts and discussions around alignment of coaches with athletes, incidentally something I had written some thoughts down on during the afternoon. The second around pay rates of endurance athletes versus golfers and tennis players, a topic quite close to my heart as I wrote 10,000 words on it for my degree dissertation. And finally as we all felt full having eaten seemingly less than normal we chatted about the effect of altitude on appetite, looked a few things up on the interweb and upgraded our knowledge for the evening.
9pm bed and only a 6:30am alarm. What a treat.